LATEX GLOVES
Introduction
Natural rubber (NR) latex gloves are environment-friendly products because the main ingredient, natural rubber is derived from a renewable resource, i.e. natural rubber (NR) latex. Unlike synthetic gloves, which so far are mostly made from petrol chemicals, natural rubber latex is obtained from the Hevea brasiliensis tree by tapping the bark with a tapping knife (Figure 1).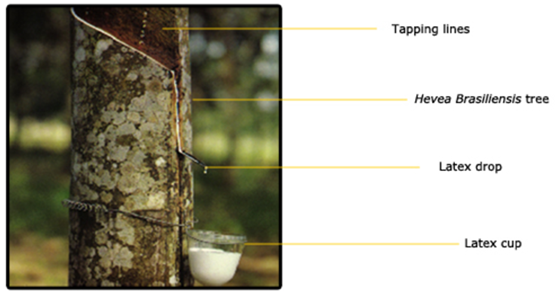 Raw NR Latex
Although latex can be of natural or synthetic origin, in the commercial world, latex is normally understood as natural rubber latex. The rubber in latex is not dissolved in the aqueous medium which is known as serum, but exists as molecular aggregates in the form of discrete particles with a diameter of 0.01 to 5 micro meters. It is homogeneously dispersed in the aqueous serum together with a few percent of other non-rubber substances such as proteins and amino acids, lipids, carbohydrates and sugars, trace metal ions, and other minor substances, collectively known as non-rubbers. The remaining major component is water. The major component of the rubber is cis-1,4-polyisoprene. The composition of NR latex depends on various factors such as clone, season, soil conditions, fertiliser application techniques and tapping frequencies. A typical composition of natural rubber latex is shown in Table 1.
Table 1: Typical Composition of Natural Rubber Latex
| Component | Percentage by weight |
| --- | --- |
| Rubber Hydrocarbon | 36.0 |
| Proteins & Other Nitrogenous Compounds | 1.7 |
| Neutral Lipids, Glycolipids & Phospholipids | 1.6 |
| Minerals | 0.5 |
| Inisitols & Carbohydrates | 1.6 |
| Water | 58.6 |
NR Latex Concentrate for Product Manufacturing
Latex collected from the tree after tapping is known as fresh field latex. At room temperature without any preservation, fresh field latex can only remain stable for several hours as microorganisms in the air can attack the non-rubbers, such as proteins which are the stabiliser and carbohydrates, releasing acid, causing destabilisation to the latex, which is also known as auto-coagulation. To maintain the latex stability, it is normally preserved with ammonia after collection from the field.
The stabilised latex is then concentrated by centrifugation to reduce the non-rubber materials and water content. Alternatively, it can be coagulated with acid and processed into dry rubber for dry rubber product applications. The concentrated latex has slightly higher than 60% dry rubber content (or DRC). The resulting latex concentrate becomes the raw material for all natural rubber latex products using different processing methods such as dipping (for gloves, balloons, condoms, catheters, baby soothers, rubber tubings, toys and dental dams), foaming (for latex foam to sponge), extrusion (for latex threads, more commonly known as "elastic"), casting (rubber face masks, flexible toys, and doll bodies).
Natural rubber obtained from raw latex concentrate does not have sufficient strength for product applications. To enhance strength, it is normally vulcanised or crosslinked by adding chemicals to the latex before being processed into latex products. Therefore, at the compounding stage, the latex concentrate is mixed with various compounding chemicals and allowed to mature for a period of time before being transferred to the production line. Generally, compounding ingredients consist of stabilisers, protective agents such as antioxidant and vulcanising agents which include curing agent, accelerator and activator.
Methods of Manufacturing of NR Gloves by Dipping
The online dipping process is summarised in Figure 2 below.

The former holder may consist of single, double or batten with multiple formers. Depending on the line size, normally 2 - 3 sizes are loaded per dipping line for examination gloves with more sizes for longer production lines.
For powdered coagulant, nitric acid and sodium hypochlorite are used while powder-free coagulant normally involves the use of commercial cleaning agent supplied together with powder-free coagulant which normally contains stearate compounds.
The main ingredient of coagulant is normally calcium nitrate. Nitrate is used because most nitrate derivatives are soluble in water. Other ingredients include wetting agent, powder for mould release purpose such as calcium carbonate or stearates, stabiliser, defoamer, dewebber. In some cases, thickener is also used to improve the coagulant pickup especially for surgical gloves.
The coagulant is prepared by dissolving salts, such as calcium nitrate in water in most cases, but alcohol can also be used. The product mould is then dipped in the coagulant to form a thin layer. This is normally used to produce unsupported rubber gloves. The thickness depends on many factors such as coagulant concentration, viscosity of latex, dwell time, withdrawal rate and chemical stability of latex. In the case of fabric-supported products such as industrial gloves, organic acids such as acetic acid may be used to replace the salt.
Note:
Straight dipping – This is a process of dipping a mould directly into the latex used to produce latex products without using any coagulant. The thickness normally depends on latex viscosity and former temperature. This is normally applicable to thin products such as condoms.
Heat-sensitised dipping – This is a process of coagulating the latex stabilised with a heat- sensitising agent using a heated former. The latex becomes destabilised when in contact with the heated former due to the precipitation of the heat-sensitive stabiliser. The thickness depends on many factors such as viscosity of latex, dwell time, withdrawal rate and chemical stability of latex. This technique is normally used for producing fabric-supported gloves for industrial applications.
The dried coagulant on the former is then dipped in the compounded latex for an appropriate dwell time to give the desired latex film thickness. The latex pickup depends on many factors such as coagulant concentration, dry rubber content of latex, chemical sensitivity of latex, former temperature, and withdrawal speed.
Beading is a process of rolling down the cuff edge for a few cm to form a ring roll. This can be performed before or after the wet-gel leaching process depending on the machine design. The bead can help to enhance the strength of the cuff which is normally thinner than the palm and finger areas. NR film has a better wet-gel strength than synthetic latex films and therefore it is relatively easy to perform the beading process.
The thin latex film on each former is allowed to fully gel and leached in hot water at 50 – 70oC for 1 - 5 minutes to remove water-soluble materials such as surfactant, proteins and calcium salt. Wet-gel leaching can help to integrate the latex film and improve the mechanical properties such as tensile strength. It can also reduce the odour of products. The temperature is normally kept below 70℃ as high temperatures may cause the weak wet gel to crack.
When powder-free gloves are produced, the gloves are normally coated with a polymer dispersion such as acrylic and polyurethane, by dipping. This process reduces the surface tackiness of the gloves and imparts good slip properties to the surface for easy donning.
The gloves on the formers are then dried and vulcanised which is usually done in hot-air ovens, initially at lower temperatures of 80º - 90º C, and then at higher temperatures of 100º - 140ºC. Gradual drying is important to prevent sudden shrinkage which may lead to formation of cracks.
Wet-gel leaching process mainly removes the water-soluble materials near the outer surface. Upon drying and curing, more water-soluble materials on the inner surface migrate to the outer surface together with the water. Therefore, it is important to leach again after drying. The temperature can be as high 90℃ as the dry film is now cured and strong.
When polymer coating process is not adopted, the surface tackiness can be reduced by treating the gloves with chlorine water. The excess chlorine is then neutralised by dipping in another tank containing neutraliser, followed by rinsing.
For the manufacturing of powdered gloves, the gloves are dipped into corn starch powder slurry to pick up a coat of lubricant that makes them easier to strip and don when used. They are then further dried. For powder-free gloves, a step of silicone dip may be introduced to facilitate stripping and donning by the users.
This is the final operation in the production line - removal of gloves from the formers. Traditionally, this is carried out manually, frequently with the assistance of compressed air, but an automatic stripping system is becoming more common nowadays.
Offline Processing
The commonly used offline processes are shown in Figure 3 below.

This is normally implemented when the gloves are insufficiently vulcanised (under cured), or contain high moisture due to insufficient drying or re-absorption of moisture after stripping. Sometimes tumbling without heating is used to reduce the powder content. For powdered gloves, the glove can be packed after the tumbling process.
Washing is introduced to remove the powder from the dipping machine and also to reduce the water-soluble materials such as proteins, accelerator and surfactant. Normally 3 rinsing steps are required to remove the online powder.
These steps are the same as those of online process except that they are performed in batches
This is a process for surgical gloves where the gloves are folded at the cuff so that the users can don the gloves without touching the outside surface.
For surgical gloves, basic information such as left or right hand, glove size and brand name are printed at the cuff area. The printing can also be performed online.
For non-sterile examination gloves, they are packed in bulk of 100 - 200 pieces per dispenser. For sterile examination gloves and surgical gloves, they are packed in pairs and normally in 20 -50 pairs per dispenser.
This is normally performed by exposing the packaged gloves to gamma radiation, or electron beam with a minimum radiation dose of 25kGy. For sterilisation by ethylene oxide gas, the packaging materials must be permeable to the gas.
Proteins in NR Latex and NR Gloves
Type I hypersensitivity and Cross Reactivity
When NR allergenic proteins first enter the body of a sensitive individual, IgE which recognises allergen epitopes (binding sites of antibody) is produced and circulated around the body through lymph nodes and blood without any allergy symptoms. However, when allergen with the same epitopes enters the body again at a later time, it binds to the IgE on the cell surface, causing the cells to release pre-formed mediators, which causes symptoms of allergic inflammation such as heat, pain, swelling, redness, asthma, itchiness and in some rare cases anaphylaxis. These allergic reactions can occur within 5 - 30min. These reactions could also be elicited in NR protein sensitive individuals if they ingest allergens with similar epitopes, such as in the case of avocado, banana, chestnut and kiwi fruit among many others. This phenomenon is known as latex-food cross reactivity. However, it is important to note that not all food-allergic individuals are sensitive to NR proteins, and not all NR protein allergic individuals will have problems with these foods.
A study of binding patterns of IgE antibodies from the blood sera of individuals, who were not allergic to NR proteins but who had reactions to fruits, supported this. The study findings also showed that multiple bindings could occur between NR proteins and IgE from many who reacted to extracts of fruits but not to NR gloves. On the other hand, more specific and fewer bindings to NR protein were observed by those who were skin tested positive to NR glove extracts.
Hasma H., Shahnaz M., Yip E., Azizsah M., Mok K.L. and Nasuruddin B.A. "Binding Patterns of IgE Antibodies in Sera of Rubber Tappers to Fresh Hevea Latex Serum Proteins," J. Rubb. Res. 1998; 1(3): 146-153
Prevalence and Preventive Measures
Prevalence of NR proteins allergy has been reported for the following individuals:
Atopic patients with spina bifida or spinal injury;
Patients with a history of multiple invasive procedures;
NR protein sensitive individuals who are exposed to:

NR proteins for a longer period of time, such as wearing NR gloves for too long.
NR proteins with compromised skin.
High concentration of NR proteins in gloves.
Leaching out of NR proteins due to excessive sweat under the high-protein gloves.

Individuals with existing food allergies such as nuts, sea food, kiwi fruits, bananas, and avocados.
For General Public Health Safety

The onset of NR protein allergy was brought about by the use of powdered NR gloves, which were high in both protein and powder contents. However, through advanced technological improvements in the glove manufacturing processes, NR gloves today are powder-free and with drastically reduced protein content. The use of such improved gloves has been shown to markedly reduce both sensitisation and allergic reactions in workplaces as reported by many independent hospital studies in Europe and the U.S. (References – www.latexgloves.info) Therefore, wherever possible, use only low-protein powder-free gloves. The use of synthetic gloves with good barrier properties is another option.

For NR Protein Allergic Individuals

It should be noted that NR protein avoidance has to be practised for individuals who are confirmed to be allergic to NR proteins by medical experts. Some of the preventative measures are as follows:

Carry a card or wear a bracelet for allergy identification.
Avoid contact with articles made from natural rubber latex or associated materials such as NR glove powder which may contain absorbed NR proteins.
Use only synthetic gloves with adequate barrier protection such as nitrile polychloroprene and polyisoprene gloves.
Consult medical experts whenever there are symptoms of allergic reactions.
Alert other workers at the work place about the potential allergy risks.
Ensure compromised skins are well protected from exposure to the allergens.
Wear personal protective equipment wherever possible to reduce the inhalation of airborne allergens.
NR Powdered Gloves and NR Protein Allergy
Corn starch on gloves is known to act as a lubricant to facilitate ease of donning. However, in the case of NR gloves with high content of extractable allergenic proteins, the corn starch has been shown to have the ability to absorb these soluble NR proteins during the glove manufacturing process. As these fine powder particles can easily detach from the glove during the glove donning or doffing, they form a suspension of aeroallergens in the air. Inhaling or digesting this powder can cause Type I hypersensitivity allergic reactions. A study has shown that merely by switching to powder-free NR gloves from powdered NR gloves, these NR aeroallergens can be completely removed in the healthcare setting. With this change, sensitised healthcare workers are able to remain at work by using non-NR gloves, indicating that these practical measures can prevent the occurrence of NR protein allergy among healthcare workers. In another study, it was found that the number of powdered NR gloves decreased from 100% in 1994 to 10% in 2005. This decrease has caused a virtual disappearance of new NR protein allergy cases among German healthcare workers as shown in Figure 4. With continuous effort by the NR glove manufacturers to reduce the extractable proteins in NR gloves, the prevalence of NR protein allergy has recently been reported to be low even for the high-risk groups such as children with spinal dysraphism.
In view of the risks in causing possible adverse effects from the powder in powdered NR gloves, effective 18 Jan 2017, the US FDA has banned the use of powdered medical gloves in healthcare settings.
Allmers H., Brehler R., Chen Z., Raulf-Heimsoth M., Fels H., Baur X. "Reduction of latex aeroallergens and latex-specific IgE antibodies in sensitized workers after removal of powdered natural rubber latex gloves in a hospital" J. Allergy Clin. Immunol. 1998; 102, 841-846.
Allmers H., Schmengler J., Malte John S., Skudlik C. "The disappearance of NRL-allergy in Germany and Europe" http://docplayer.net/20648300-The-disappearance-of-nrl-allergy-in-germany-and-europe.html
Hanan Goldberg H., Shachar Aharony S., Levy b Y., Sivan B., Baniel J., Meir D.B. "Low prevalence of latex allergy in children with spinal dysraphism in non-latex-free environment"
J. Pediatr. Urol. 2016; 12, 52.e1-52.e5.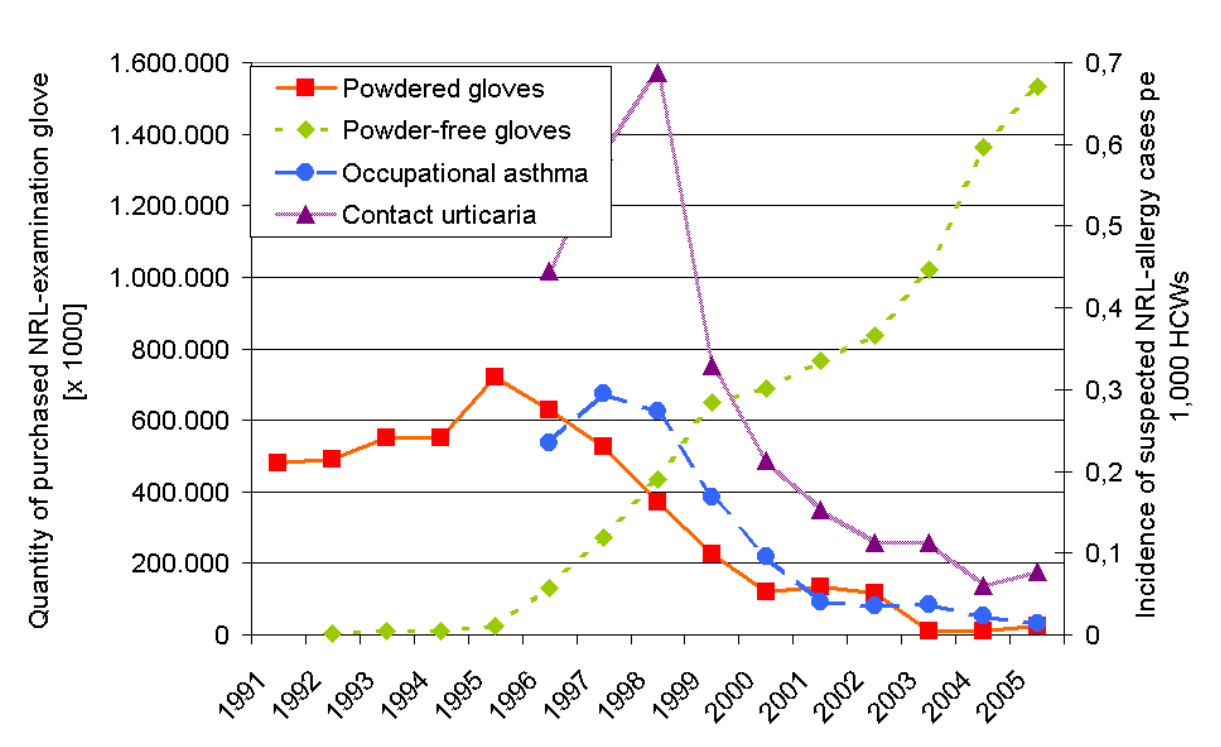 NR Gloves and Contact with Food
NR proteins, especially from gloves with high content of extractable proteins and powder, are believed to transfer from the gloves when in contact with food during food handling. However, studies have shown that the extent of such transfer, if any, depends on the gloves used and the conditions of the contact surfaces of the food concerned.
A study has showed that no glove proteins were transferred to dry non-sticky food whereas the amount of proteins transferred to moist food depends on the extractable protein (EP) or antigenic protein (AP) content of the glove surface in contact with food. When low-protein NR gloves with an EP content <60 µg/dm2 or AP content of <1.5 µg/dm2 was were used, no measurable amount of proteins was found to transfer to even a moist nitrocellulose membrane which was used to simulate food with high binding affinity for proteins. Only NR gloves with a higher AP level of >10 µg/dm2 were found to transfer detectable amount of proteins to foods such as tomato and cheese. As such, NR gloves, especially the powder-free gloves, with EP of <60 µg/dm2 and/or AP <10 µg/dm2 have much lower risk in causing adverse reactions to sensitive individuals when used for food handling. The findings thus demonstrated that transfer of extractable proteins could can occur when gloves with high EP content are used in food handling, and when food contact surfaces are moist. Such transfer is likely to be insignificant when gloves with low EP are used.
Beezhold D.H., Kostyal D.A., Wiseman J.S. "The transfer of protein allergens from latex gloves. A study of influencing factors" AORN 1994; 59, 605-614.
Beezhold D., Reschke J., Allen J., Kostyal D., Sussman G. "Latex protein: A hidden food allergen?" Allergy Asthma Proc. 2000; 21, 301-306.
Bernardini R., Novembre E., Lombardi E., Pucci N., Marcucci F., Vierucci A. "Anaphylaxis to latex after ingestion of a cream-filled doughnut contaminated with latex" J. Allergy Clin. Immunol. 2002; 110, 534-535.
Hasma H. "NR Gloves in Contact with Food: Factors Affecting the Protein Transfer" J. Rubb. Res. 9, 108–114
Advantages of NR Gloves
Currently, there are several materials used for manufacturing medical gloves. The major ones which are used in large quantity include NR, carboxylated acrylonitrile butadiene copolymer (nitrile rubber), polychloroprene (chloroprene rubber), and synthetic polyisoprene, as well as polyvinyl chloride (vinyl). Other rubber materials such as styrene-isoprene block copolymer, polyurethane, polyethylene, and other copolymers can also be used. In addition, other elastomers such as polyvinyl alcohol and butyl rubber are also used for manufacturing chemical-resistant gloves. Among all these glove materials, it is acknowledged that NR has the following superior properties:
NR gloves have superior barrier properties due to their durability (good tensile strength), high tear resistance, good elasticity coupled with the softness to provide good fit and comfort, which are critical for medical gloves and are important features required when the gloves are used for long hours such as surgical procedures, to reduce hand fatigue.
They possess the unique ability to reseal when the NR gloves encounter needle punctures, thereby providing additional barrier protection against transmission of infectious pathogens. This is well demonstrated by a study showing that unlike vinyl and nitrile gloves which indicated significant viral leaks when punctured with an injection needle, NR gloves, on the other hand, could "self-reseal" resulting in significantly less viral penetration as observed during laboratory tests. Figure 5 shows the micrographs of the punctured gloves where needle cuts for nitrile and vinyl gloves remained open compared with NR gloves which were found to be sealed.



Mylon P., Lewis R., Carré M.J., Martin N., Brown S. "A study of clinicians' views on medical gloves and their effect on manual performance" Am. J. Infect. Control 2014; 42, 48-54
Hasma H., Othman A.B. and Fauzi M.S. "Barrier Integrity of Punctured Gloves: NR Superior to Vinyl and Nitrile" J. Rubb. Res. 2003; 6, 231-240





Figure 5: Electron micrographs of rubber gloves punctured with 26 gauge needle




A more recent study further demonstrated that needle-punctured NR gloves could substantially reduce the penetration of Escherichia coli bacteria when tested under repeated stretching conditions as shown in Table 4.

Bardorf M.H., Jäger B., Boeckmans E., Kramer A., Assadian O. "Influence of material properties on gloves' bacterial barrier efficacy in the presence of microperforation" Am. J. Infect. Control. 2016; 44, 1645-1649.




Table 4: Bacterial penetration of gloves punctured with 23 gauge needle (0.6mm)

Gloves
Quantity of bacteria recovered (natural log)*
Volume of bacteria penetrated (µL)
Nitrile Examination Glove 1
1.05
770
Nitrile Examination Glove 2
1.07
345
Nitrile Examination Glove 3
1.35
770
Nitrile Examination Glove 4
0.72
305
NR Examination Glove 1
18.90
0
NR Examination Glove 2
18.76
0
NR Examination Glove 3
2.53
55
Polychloroprene Examination Glove
2.09
10
Polychloroprene Composite Examination Glove
2.67
20
NR Surgical Glove 1
18.50
0
NR Surgical Glove 2
20.91
0
Thermoplastic Surgical Glove
22.27
0
Note: The initial bacteria concentration varied as the quantity was measured by volume

From the manufacturing perspective, NR gloves are much easier to make than synthetic rubber gloves. This is because:

NR latex has better wet gel strength than synthetic latexes, which allows easy beading process to be carried out at the cuff and drying without multiple temperature zones.
NR latex has a longer shelf life than synthetic latexes.
NR latex can be fully prevulcanised in latex state which has so far not been achieved in synthetic latexes.
NR latex has a longer latex pot life than synthetic latexes.

Of all the glove materials available commercially, only NR from Hevea Brasiliensis is a plant- based, sustainable and environmentally-friendly material. Although other plant-based rubbers such as that from Guayule shrubs are also available, they are not widely used. Unlike all synthetic substitutes derived from petrol chemicals, NR gloves are biodegradable. Furthermore, NR gloves are produced with less carbon foot-print and therefore are more environment-friendly.
Opportunity for Improvement
The oil resistance and ozone resistance properties of NR gloves are not as good as those of polychloroprene and nitrile gloves. Therefore, depending on the extent of oil and fat exposure, it is advisable to change NR surgical gloves at least once after 90min of use.
NR gloves have a slightly lower puncture resistance than nitrile gloves when tested against rounded probes using the ASTM F 1342 method. However, regardless of materials used, there is no difference in puncture resistance needle as outlined in the ASTM F2878 method.
The quality of raw latex could vary somewhat being influenced by several factors such as weather, soil conditions and "wintering season". However, with good experience in handling NR latex, it is not difficult for one to adjust some process parameters to meet production requirements. The use of commercial prevulcanised latex could also eliminate such variation.
From the manufacturing perspective, it is difficult to make accelerator-free NR gloves, probably due to the presence of a large quantity of non-rubber materials making the system complex.
Malaysia's Strengths
Commercial cultivation of rubber trees started in Malaysia after the first batch of nine young rubber trees were planted in Kuala Kangsar, Malaya (now Malaysia) in 1877. Extensive research and development efforts had subsequently made Malaysia the number one NR-producing country in the world until the 1990s. Due to the progress of industrialisation, the volume of raw rubber exported from Malaysia has gradually declined over the past 25 years. However, with the accumulated knowledge in the raw material over a century, Malaysia is now the world's largest producer and exporter of rubber gloves with a 64% global market share. The strong competition among the glove manufacturers has also led to the significant improvement in production efficiency through automation and innovation. This has also driven product quality to a higher level and diversification of products. The ecosystem for the glove industry also plays a significant role in maintaining Malaysia as a global glove powerhouse. To maintain the quality of the products, Malaysia has introduced the Standard Malaysian Glove (SMG) scheme where the NR gloves are certified to meet stringent specifications. Furthermore, to cater for NR protein allergic individuals, Malaysia is also the largest manufacturer and exporter of nitrile gloves.
Concluding Remarks
Medical gloves are one of the essential and important medical devices used in healthcare facilities worldwide as they are one of the major means to control the spread of harmful infections. NR gloves have been used for this purpose for many years, and have been acknowledged to possess many superior properties that synthetic glove manufacturers are trying to achieve. These include in particular their very effective barrier protection against transmission of viruses, bacteria and other infectious pathogens; as well as their good tensile strength for durability, outstanding elasticity, good comfort and fit, and good puncture resistance with high tear resistance. Although synthetic polyisoprene can provide a similar fit and feel, the material cost is several times higher than that of NR. Moreover, the tear resistance of synthetic polyisoprene gloves is inferior to that of NR gloves. NR gloves also possess the unique ability of being able to reseal when punctured by sharp needles, thereby providing additional barrier protection against transmission of infectious pathogens. Furthermore, they are a plant-based material from the Hevea trees, and more importantly, are biodegradable unlike synthetic gloves. Hence, NR gloves are very environmental friendly.
The awareness of NR protein allergy in the late 1980s and 1990s had caused much concern among users of NR gloves. The crisis was brought about by the use of an older generation of NR gloves with high contents of extractable proteins and excessive powder. The advancement in glove manufacturing by the glove industry, especially in Malaysia, has today addressed the issue, via the production of improved low-protein, low-powder or powder-free gloves, which are low risk to NR protein allergy. The use of these gloves has in fact, been reported to have drastically reduced NR protein sensitisation and allergy in work places. As for the already sensitised and allergic individuals, it is recommended that they practise NR protein avoidance, and opt for the use of NR protein-free-synthetic substitutes, such as nitrile gloves which have also good barrier like those of NR.
Palosuo T., Antoniadou I., Gottrup F., and Phillips P. "Latex Medical Gloves: Time for a Reappraisal" Int. Arch. Allergy Immunol. 2011; 156, 234–246
Nakamura Y., Ishizu O., Aihara S. "Latex for molding use, composition for dip molding use, and dip-molded article" 2017; US Patent 9,546,239